Complete Manual for Hismith APP controlled Sex Machine
Click here to download the manual in doc..
Step 1 Downloading the Hismith App
Our app is available in the Apple Store, as well as Google Play. Search for "Hismith" or scan the QR-code below: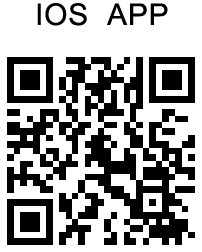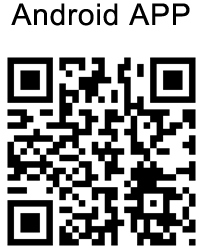 Step 2 Create your Hismith account
Enter your email address to get the verification code in your mailbox. This may take a minute.
Next, enter the verification code from the e-mail within the Hismith App.
Then, enter your password and confirm your password.
Agree with the Hismith terms of service to complete your registration.
Support for third-party login:
You can also log in by using your Google+, Facebook or Twitter account.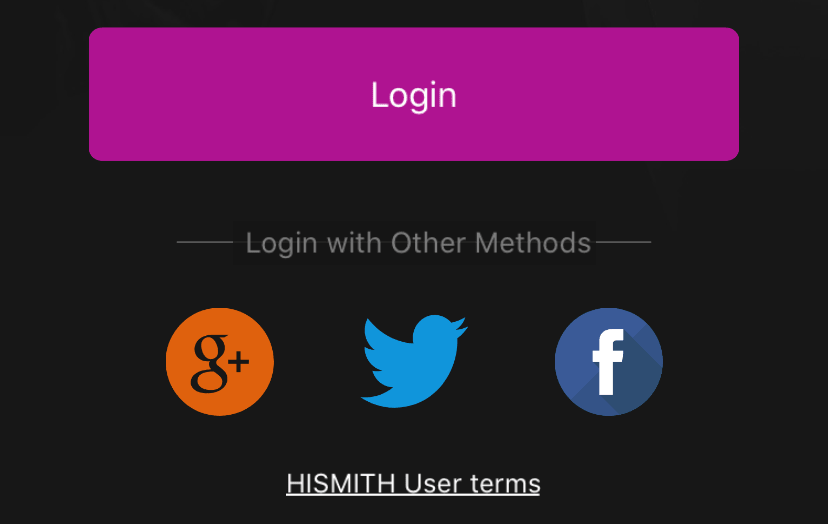 Step 3 Complete your profile
Personalize your profile by adding your details and a picture. (Max. size: 1MB)
Enter your username / nickname
Choose your Country
Enter your birthday
Enter your phone number (Optional)
Your personal info is private. It will not be visible to other users and it will only be used to keep your account secure.
Step 4 Play modes: Play alone & Play together
Play Alone: Run your machine using the existing play modes on your Hismith App.
1. Plug on your attachments and turn on your Hismith Device
2. Connect your Hismith device to your phone by Bluetooth. The connected device will automatically connect next time you use the app. (Bluetooth 4. 1) You can swipe left to edit the blue-tooth device name after it has been connected.
Click
Choose Play Alone to start your Hismith adventure.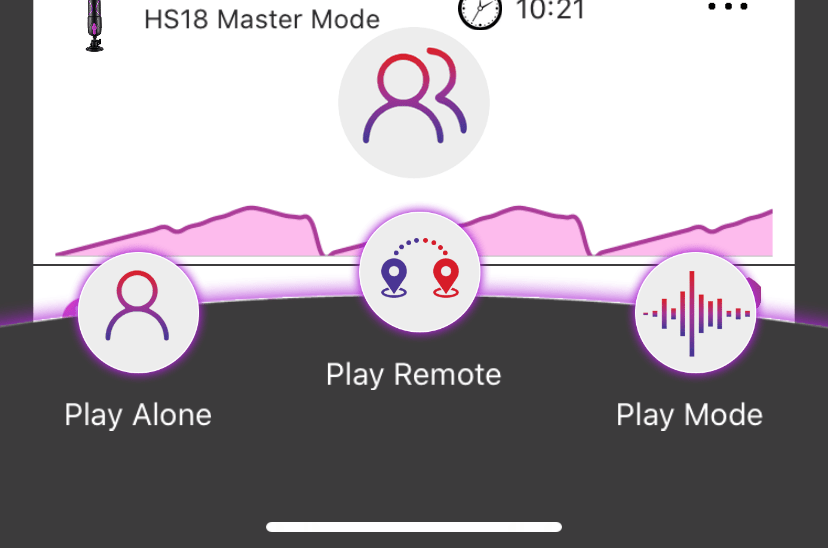 Controlling your sex machine: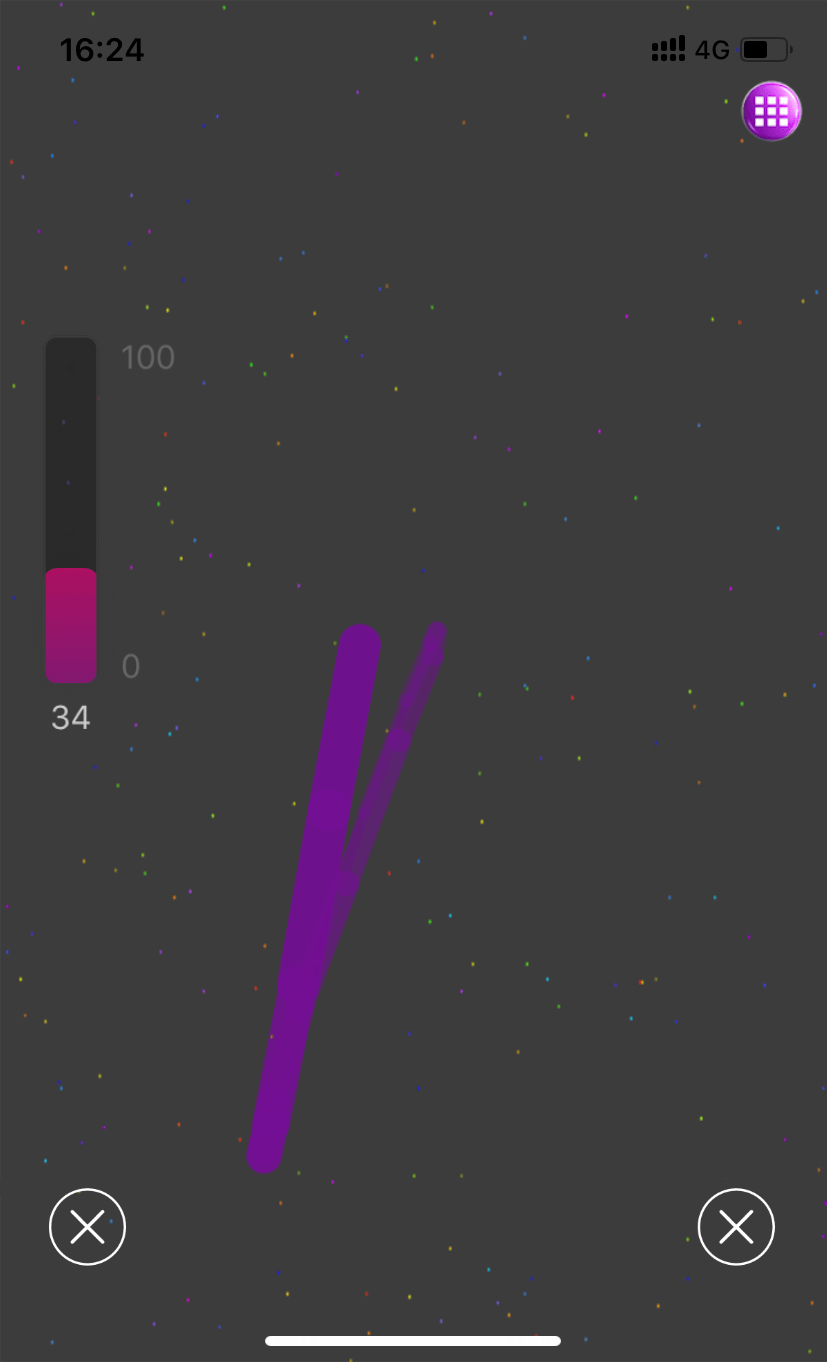 Swipe your finger(s) up and down the screen. Up for increasing speed and down for reducing speed.
You can use more than one finger to control the speed. Every additional finger used for the swipe motion, will further increase / decrease 20% thrusting speed.
Flip over your phone to fully stop your Hismith device. Flip it over again to resume at the speed you were using before flipping your phone.
Locking your screen can also stop your Hismith device. However, all settings will be eliminated and you will have to reset them.
Click on the icon

to start the device by using pre-set thrusting modes.
The patterns you find here represent each thrusting pre-set.
It is also possible to design a thrusting mode yourself, or use those made by other users. These patters are ranked by their number of clicks. Official Hismith posts can be distinguished by the Hismith H-logo.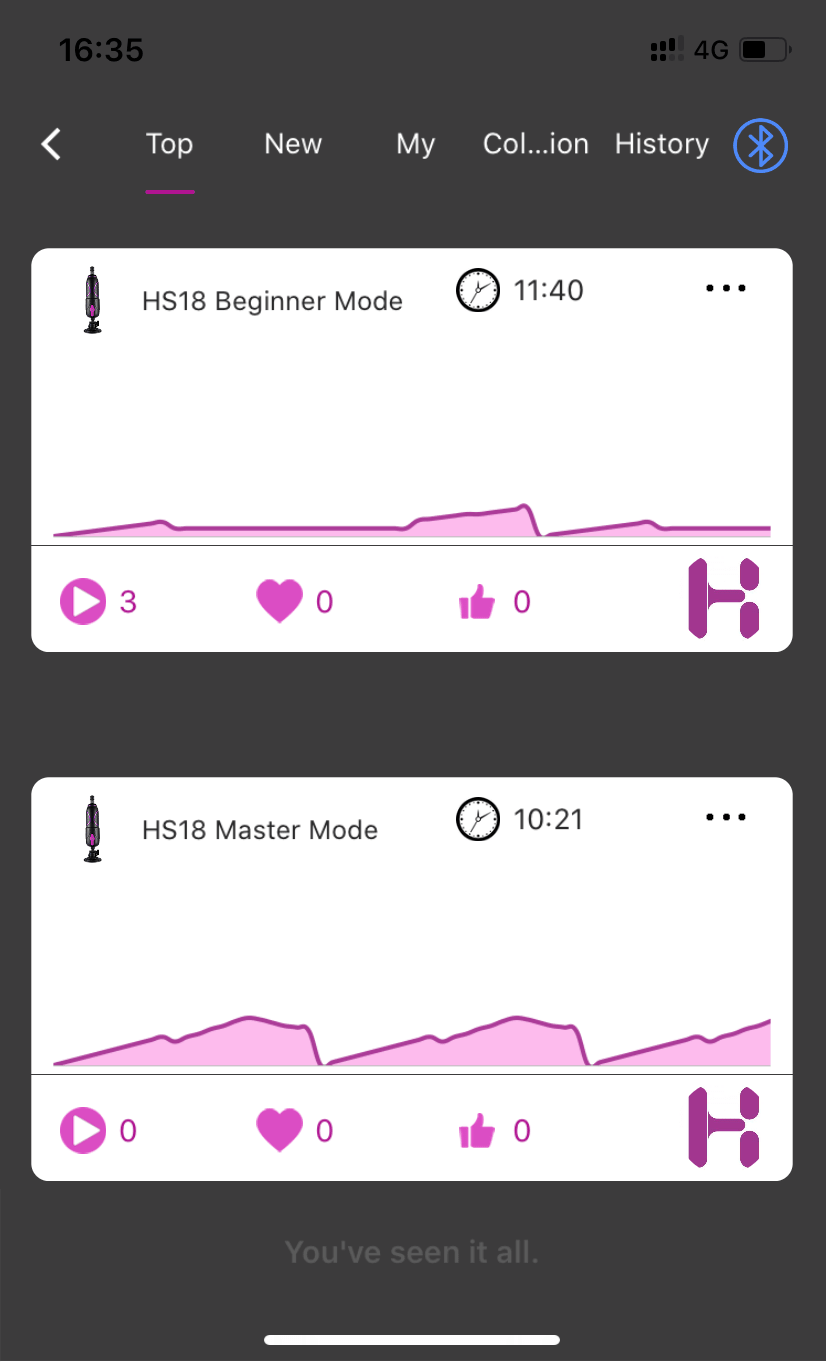 The curves show changes in thrusting speed.
TIPS: Get acquainted with each other to avoid any unwelcome surprises. Try out the different modes in a dry run before usage.
Press the single X to exit thrusting modes.
Press both bottom X's at the same time to exit Play Alone-mode.
Play Online
You can share a link through Facebook, Line, WhatsApp, WeChat and the Hismith App itself, when your Hismith device is connected to your phone, to let someone else take control of your sex machine for you.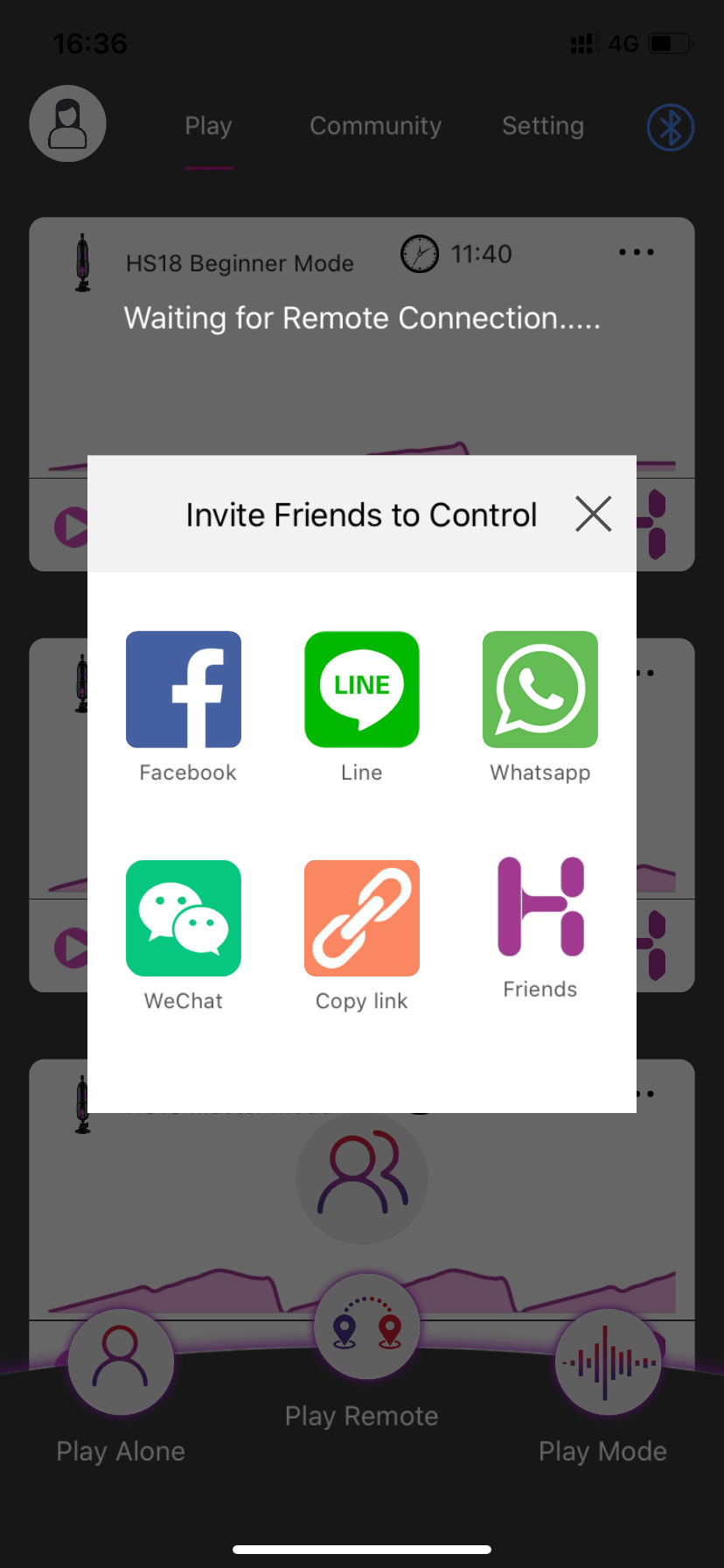 You can set the maximum speed of your sex machine between 0 and 100, which the person controlling your sex machine cannot override. Your own remote or physical speed controller do override the app control.
Only one person can connect to your device at a time. To give control to a new person, the previous one has to be disconnected.
Create your own play mode and share it with the Hismith community. No inspiration? No problem. You can also use play modes made by others. The different play modes are ranked by their number of likes, uses and clicks. Official Hismith posts can be distinguished by the Hismith H-logo.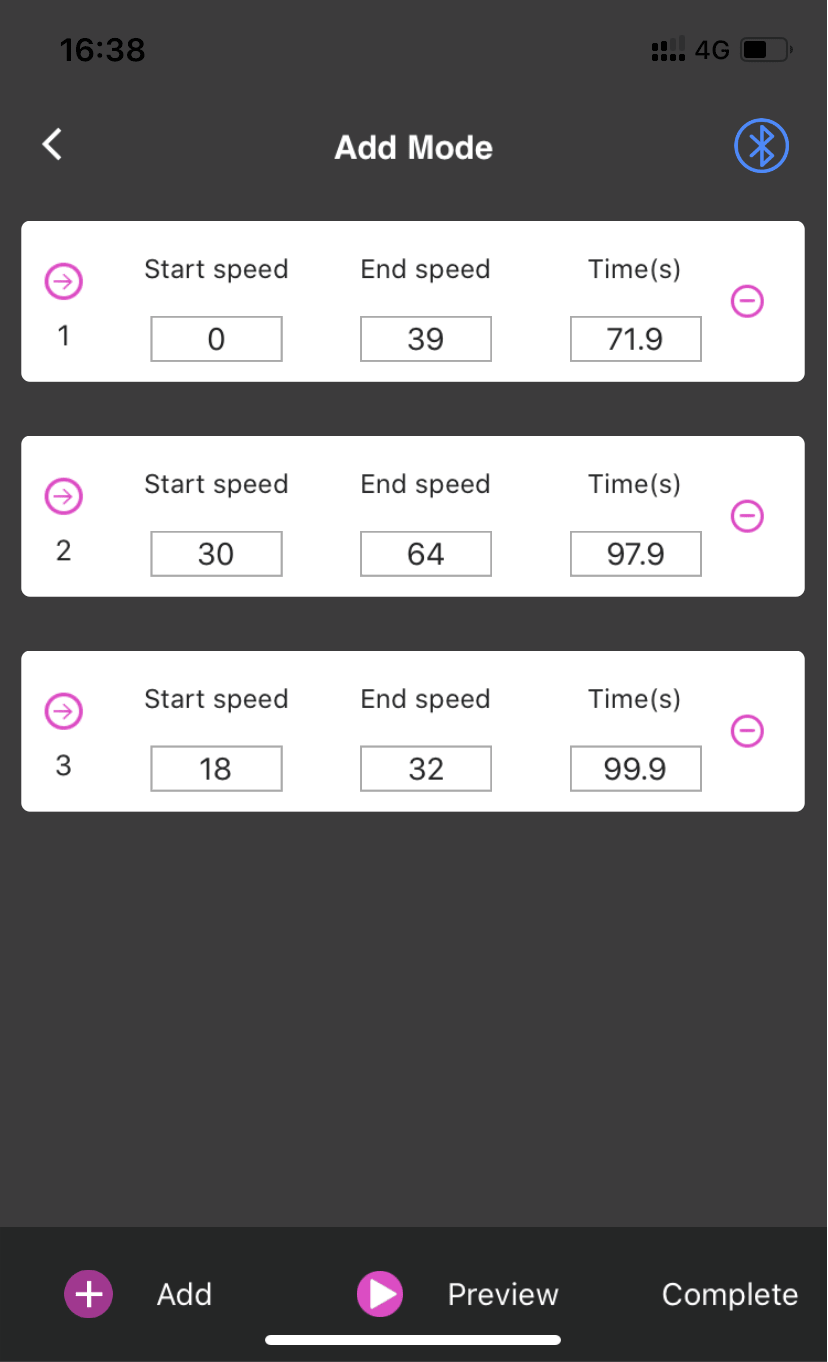 Step 5 User Center
Click the profile photo in the top-left corner to enter the user center.
In the user center you will find your friends, fans and followers, as well as messages, forum posts and your settings.
As our users range from amateur to professional webcam-model, you can fully decide how public or private you make your own profile.
Click > to go further into your profile.
Click Edit to update your profile. You can change your nickname, add a voice signature among many more options.
Step 6 System Settings
Manage your settings to personalize your usage of the Hismith App. In the system settings you are able to manage notifications, friend requests, system language and your password, among others.
You can also fully log-out of the app from this page.
Here is a video from our customer